Black truffle or black Périgord truffle
Black truffles
The "black truffle" or "black Périgord truffle" (Tuber melanosporum) is named after the Périgord region in France and grows with oak and hazelnut trees. Specimens can be found in late autumn and winter, reaching 7 cm in diameter and weighing up to 100 g. Production is almost exclusively European, with France accounting for 45%, Spain 35%, Italy 20%, and small amounts from Slovenia, Croatia and the Australian states of Tasmania and Western Australia (see below). In 1900, France produced around 1,000 metric tonnes (1,100 short tons) of Tuber melanosporum.
Tuber melanosporum in France
Production has considerably diminished in the past century, and is now around 20 metric tonnes (22 short tons) per year, with peaks at 46 metric tonnes (50 short tons) in the best years. About 80% of the French production comes from southeast France: upper Provence (départements of Vaucluse and Alpes-de-Haute-Provence), part of Dauphiné (département of Drôme), and part of Languedoc (département of Gard); 20% of the production comes from southwest France: Quercy (département of Lot) and Périgord. The largest truffle market in France (and probably also in the world) is at Richerenches in Vaucluse. The largest truffle market in southwest France is at Lalbenque in Quercy.
Truffles mushrooms
These markets are busiest in the month of January, when the black truffles have their highest perfume. As of December 2009, black truffles were sold for about €1,000 per kilo in a farmer's market and €3,940 per kilo in a retail seller. The genome sequence of the Périgord black truffle was published in March 2010.
more info about black truffles here: http://en.wikipedia.org/wiki/Truffle_(fungus)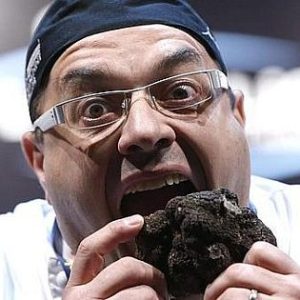 Últimas entradas de El Trufero
(ver todo)